For classic winter cool, zip up this sleek sheepskin jacket with stand-up collar and buckle detailing
Made from plush, premium Spanish sheepskin with a Nappa finish
27" long, 2.50 pounds
Pictured models typically wear size M (40)
Details
Our classic sheepskin jacket provides the ultimate winter defense. Premium Spanish sheepskin with Nappa finish offers an exceptionally plush texture that handles the years and the elements, while thick shearling insulation manages cold weather with ease. The zip front features a high, shearling trimmed collar with buckle strap closure, slant pockets to warm your hands, one interior pocket on the lower left side, and buckle side tabs for a comfort fit at the waist.
Overland Men's - Size Guide (Inches)
Size Table

US Men's size

34
36
38
40
42
44
46
48
50
52

Size Equivalent

S
M
L
XL
XXL
NECK
14
14½
15
15½
16
16½
17
17½
18
18½
CHEST
34
36
38
40
42
44
46
48
50
52
WAIST
28
30
32
34
36
38
40
42
44
46
SLEEVE
32½
33
33½
34
34½
35
35½
36
36½
37
How to Measure
Tip: If you don't have a measuring tape, you can use a ruler and a piece of string.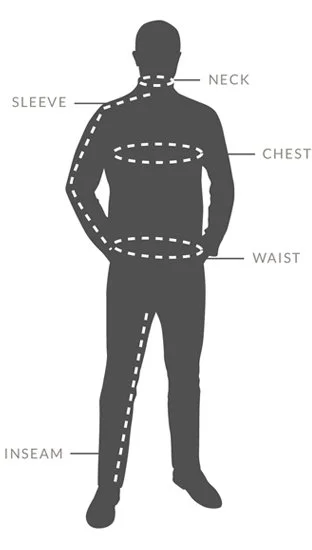 NECK
Start with a collared shirt that fits you well. Lay the fully buttoned collar flat. Measure with tape inside of the collar going around to the far end of opposite buttonhole until tape overlaps.
CHEST
Measure just under arms and across shoulder blades holding tape firm and parallel to the floor.
SLEEVE LENGTH
With arm relaxed at your side and slightly bent, measure from center back neck, over the shoulder, down the outside of the arm to the wrist. Sleeve length is always in whole numbers so round up if necessary.
WAIST
With feet together, measure around the fullest point of seat while standing. It can be helpful to use a mirror in front of you to guarantee the tape being level across the backside.
INSEAM
This is the distance from the uppermost inner part of your thigh to the bottom of your ankle. Measure similar pants that fit you well. Lay them flat, with the front and back creased smooth. Measure along the inseam from crotch to bottom of leg hem. Round this number up to the nearest ½".